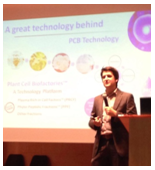 On May 12, Inkemia IUCT group held the first meeting of companies within the IUCT emprèn environment at its facilities in Mollet del Vallès. 25 people attended the meeting on behalf of 9 companies, including IUCT Inkemia itself. Activities and projects of each of them were presented during the meeting, finishing with a very positive evaluation by participants.
Inkemia IUCT group entrepreneurship activity started in 2011. Up to now, 8 start-up companies with activities in the field of life sciences, have benefited from Inkemia IUCT support. Among those companies are Plasmia, Vytrus, Mind the Byte, Leanbio, Pharmamel, Myogem, BCN Biosciences and Recerca Clínica.
With the organization of this Congress, which will be held on an annual basis, Inkemia IUCT group has taken a step forward in its support to entrepreneurship promoting not only mutual understanding, cooperation and partnership between companies, but also the consolidation and growth of the group.